The New Generation Breast Cancer Book by Elisa Port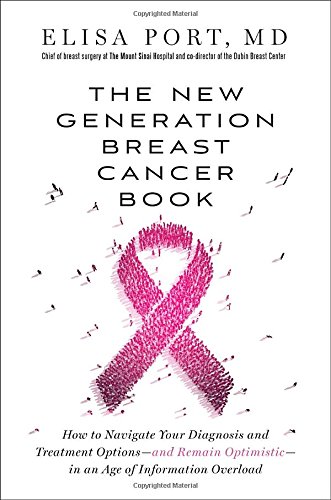 The New Generation Breast Cancer Book by Elisa Port
From an expert in the field comes the definitive guide to managing breast cancer in the information age—a comprehensive resource for diagnosis, treatment, and peace of mind.

The breast cancer cure rate is at an all-time high, and so is the information, to say nothing of the misinformation, available to patients and their families. Online searches can lead to unreliable sources, leaving even the most resilient patient feeling uneasy and uncertain about her diagnosis, treatment options, doctors, side effects, and recovery. Adding to a patient's anxiety is input from well-meaning friends and family, with stories, worries, and opinions to share, sometimes without knowing the details of her particular case, when in reality breast cancer treatment has gone well beyond a "one size fits all" approach. Elisa Port, MD, FACS, chief of breast surgery at The Mount Sinai Hospital and co-director of the Dubin Breast Center in Manhattan, offers an optimistic antidote to the ocean of Web data on screening, diagnosis, prognosis, and treatment. Inside you'll discover

• the various scenarios when mammograms indicate the need for a biopsy
• the questions to ask about surgery, chemotherapy, radiation, and breast reconstruction
• the important things to look for when deciding where to get care
• the key to deciphering complicated pathology reports and avoiding confusion
• the facts on genetic testing and the breast cancer genes: BRCA-1 and BRCA-2
• the best resources and advice for those supporting someone with breast cancer

From innovations in breast cancer screening and evaluating results to post-treatment medications and living as a breast cancer survivor, Dr. Elisa Port describes every possible test and every type of doctor visit, providing a comprehensive, empathetic guide that every newly diagnosed woman (and her family) will want to have at her side.
Paperback, 2015